Top dating apps for 2023: The best app for you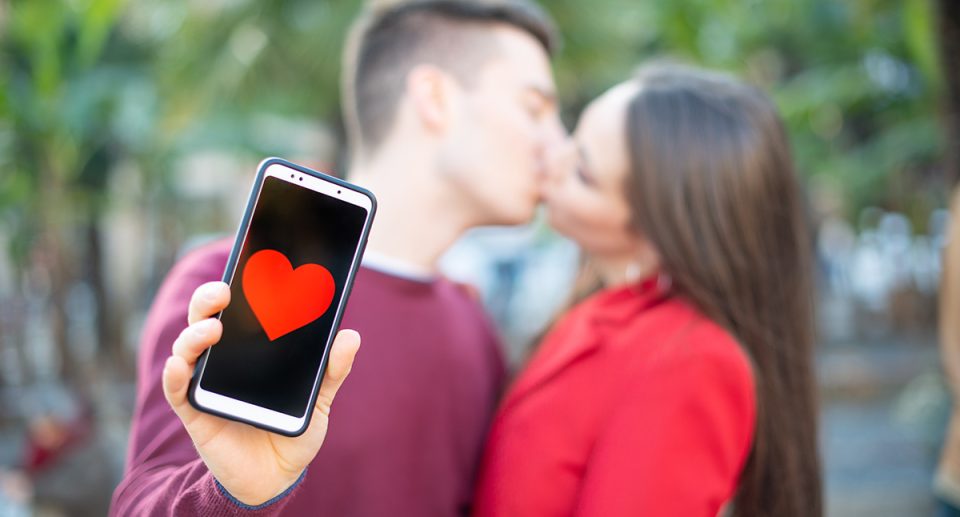 In the 21st century, online dating apps have become the prevailing method for singles to meet and socialize. In fact, as of 2023, statistics show that 1 in 10 individuals in committed relationships met their significant other through a dating app or website. The traditional approach of hoping to stumble upon someone at a bar or relying on friends to find a match has given way to the convenience and control offered by online dating.
With the increasing popularity of online dating, the number of available dating apps has also surged, leading to a potential dilemma when deciding which one to join. While you may consider signing up for multiple apps, managing connections across various dating profiles can be overwhelming. It is advisable to choose a dating app that aligns with your dating values and preferences, ensuring it makes the most sense for you.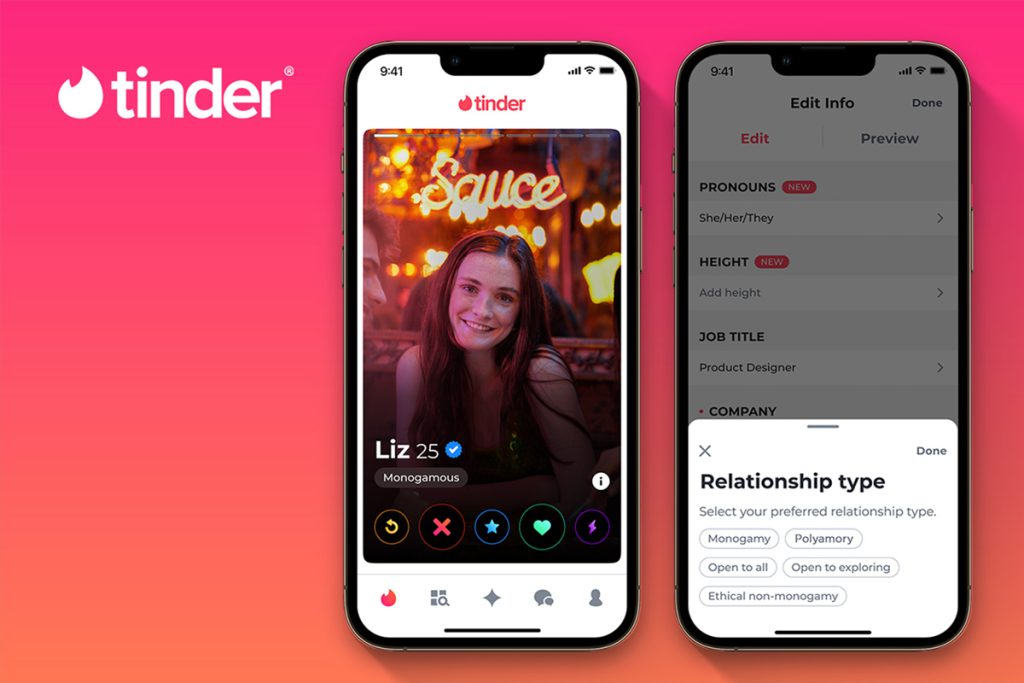 Tinder
While online dating platforms existed prior to Tinder, Tinder holds the distinction of being the first online dating app and pioneering the popular swipe-based matching feature. This unique functionality allows users to swipe through potential matches based on their location and preferences, facilitating connections with individuals they are interested in pursuing.
According to the Pew Research Center, nearly half of online dating users, and approximately 8 out of 10 users under the age of 30, have reported using Tinder. As a result, Tinder has emerged as the most widely utilized dating platform in the United States.
As Tinder was the inaugural dating app designed primarily for mobile devices, it naturally appealed to a younger audience. In fact, it initially launched on a college campus, targeting individuals in their twenties. Given that long-term relationships are not always the primary focus for many young people, Tinder quickly developed a reputation for fostering a hook-up culture.
While Tinder may not always be the optimal choice for those seeking serious relationships, it is worth noting that such connections are still possible. However, if your dating goal leans more towards casual or purely physical relationships, then Tinder can be an ideal platform for you.
As of 2023, online dating statistics indicate that Tinder remains a dominant player in the dating app landscape. However, it faces strong competition from rivals like Bumble and Hinge. Therefore, if Tinder does not align with your preferences, it may be worthwhile to explore these popular alternative platforms.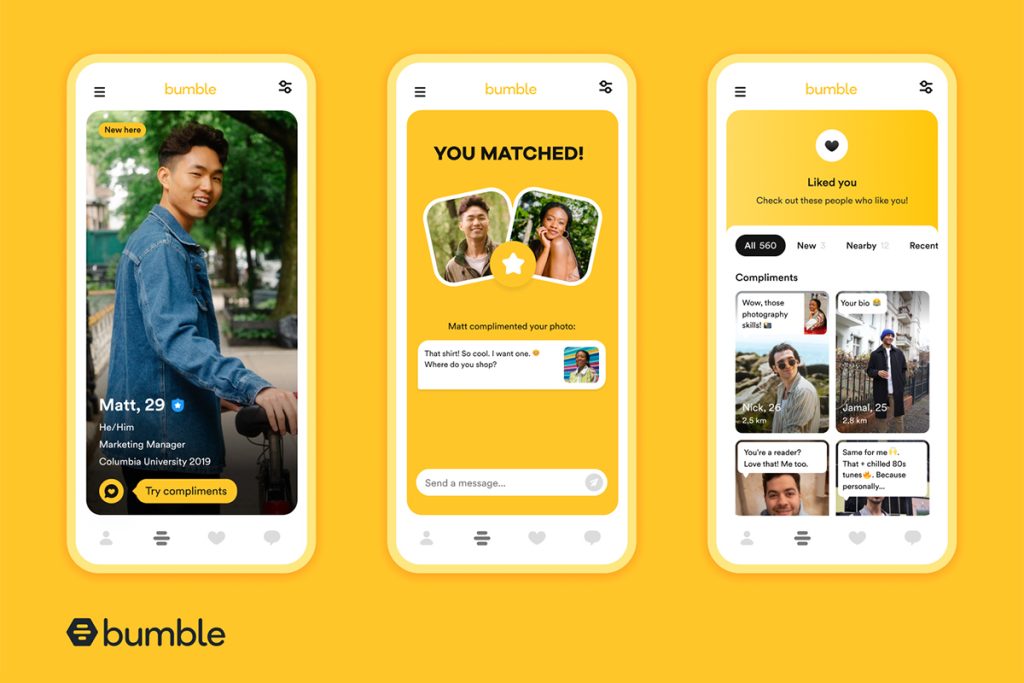 Bumble
Bumble stands out among dating apps for its unique approach, granting women the exclusive ability to initiate conversations. This distinctive feature fosters a dating experience centered around female empowerment. On Bumble, both men and women can express interest by sending likes, but it is only women who have the privilege to initiate conversations once a mutual match is established.
This characteristic makes Bumble particularly appealing and welcoming to women, as it provides them with a safer and more empowering environment for dating. If your dating objective involves women taking the lead and seeking a female empowerment dating experience, then Bumble is the ideal online dating app for you.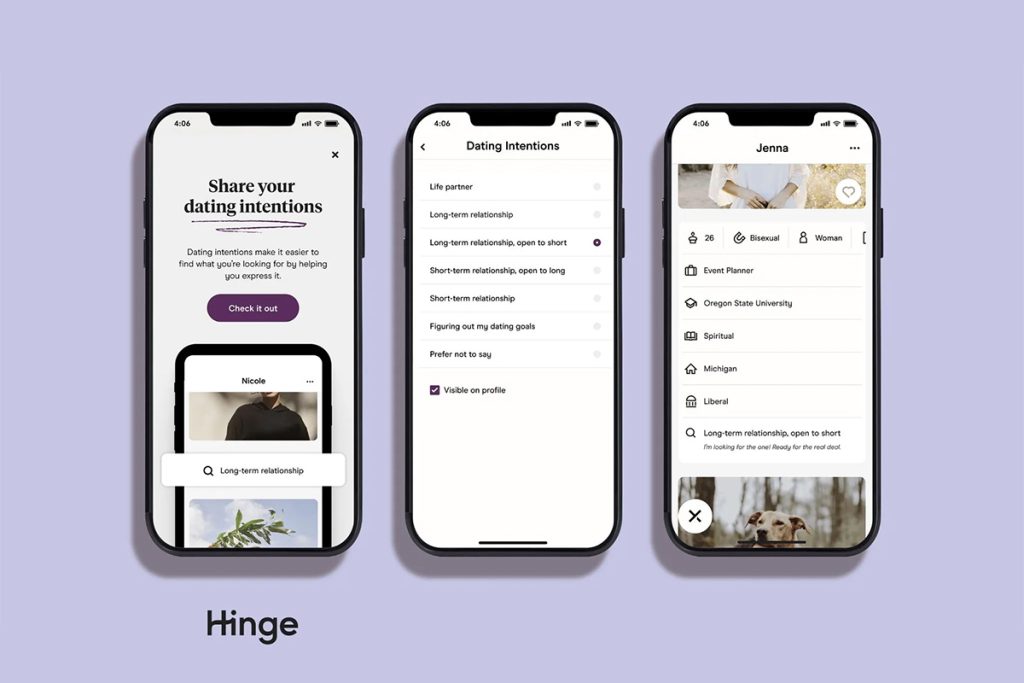 Hinge
Hinge, an online dating app, places a strong emphasis on fostering meaningful connections by utilizing prompts and questions. These prompts and questions serve as a means for users to express their personalities and showcase their interests. Consequently, Hinge has become one of the most popular dating apps among users in their twenties who are seeking to establish relationships through online dating.
Hinge distinguishes itself by positioning as the dating app that is "designed to be deleted." Its primary focus is assisting users in finding enduring and long-lasting relationships. If your dating objective involves seeking a committed and lasting partnership, and you aspire to bid farewell to the realm of online dating, then opting for the dating app that is purposefully designed to lead to deletion is the ideal choice.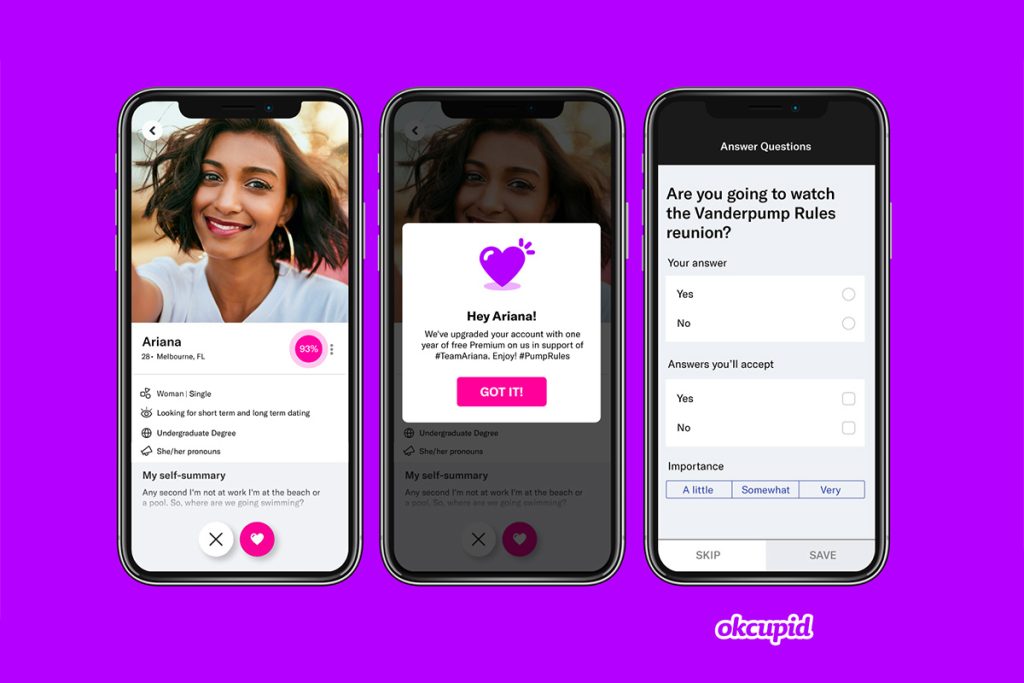 OkCupid
OkCupid is a dating app renowned for its meticulous profile-building process and advanced matching algorithm. This algorithm takes into account your values, preferences, and lifestyle, making OkCupid an app that prioritizes meaningful connections. By using OkCupid, you are actively engaging in dating with genuine intentions, as you focus on aspects that hold significant importance in a relationship.
It is crucial to ensure that you and your partner are on the same page when it comes to values and preferences. Aligning your lifestyles early on can prevent potential heartache in the future. If your dating objective revolves around finding a deep and meaningful connection, then OkCupid is the perfect platform for you.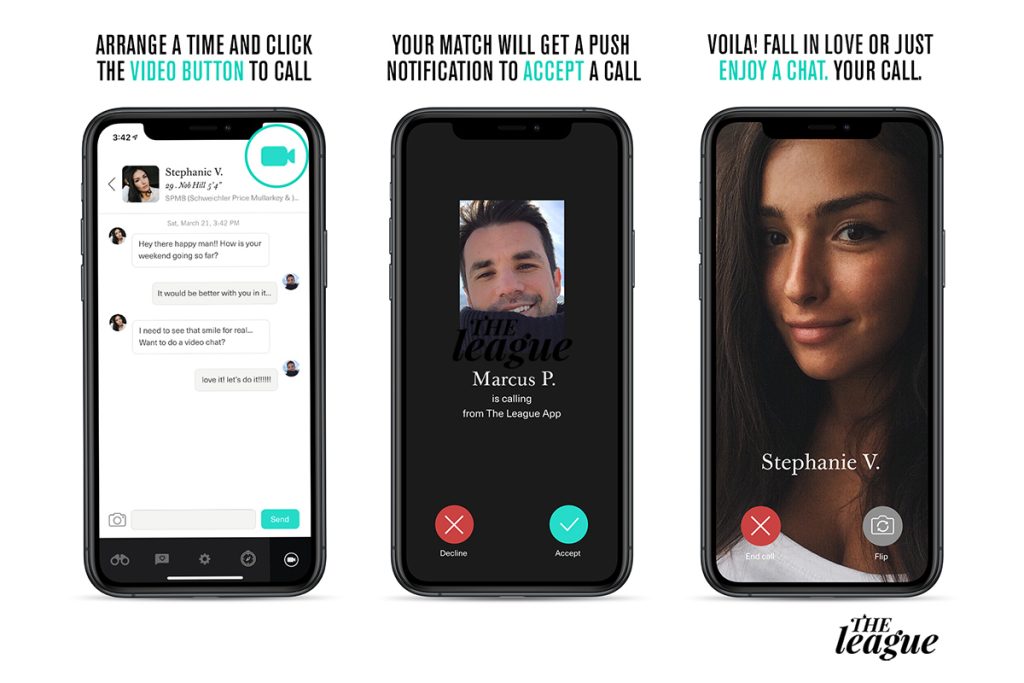 The League
The League is a dating app designed exclusively for professionals, emphasizing quality matches over quantity. It employs a stringent vetting process and a personalized matching system to ensure a high-caliber dating experience. By joining The League, you gain access to an exclusive dating service that allows you to optimize your time by prioritizing matches of exceptional quality.
Referred to as a professional dating network, The League requires users to connect their Facebook or LinkedIn profiles upon approval. Its advanced matching algorithm takes into account a variety of factors beyond just your profile. However, it's important to note that passing the vetting process is a prerequisite for joining.
To expedite the process, you have the option to become a member or acquire a "one ticket" from an existing member. This exclusive dating service establishes a professional network, ensuring that only individuals meeting certain criteria can sign up. If your goal is to connect with other accomplished professionals, The League, with its exclusive approach, is the ideal platform for you.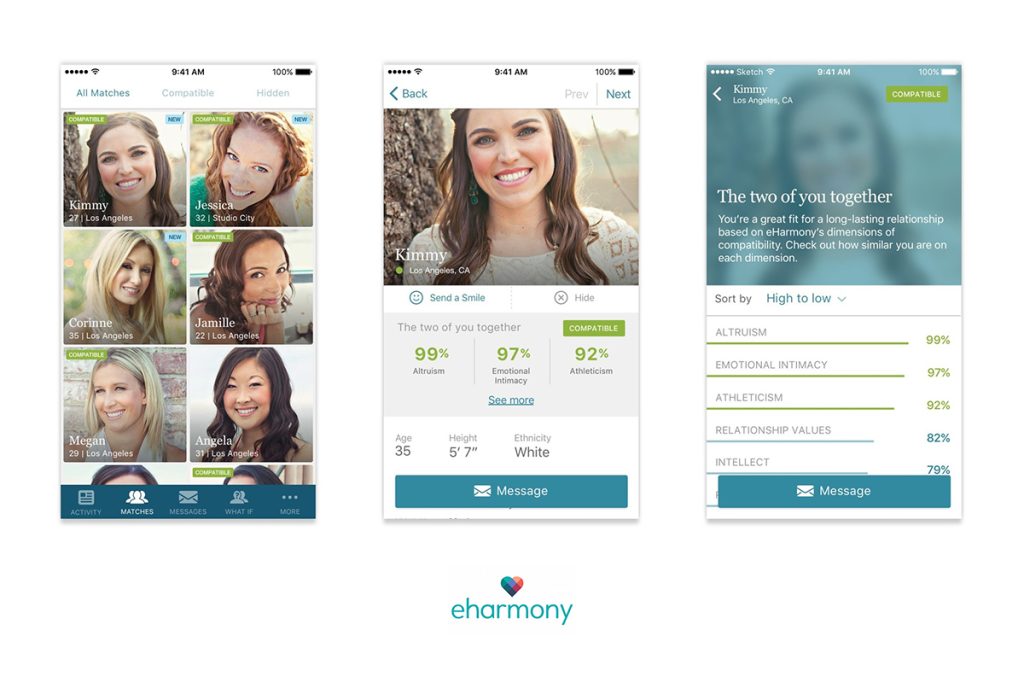 eHarmony
eHarmony is a widely used dating app that stands out by taking a comprehensive approach to profile building. It utilizes a detailed compatibility quiz to match users with potential partners. One common issue with many online dating apps is their tendency to focus on superficial aspects, such as appearance and limited information. This can sometimes lead to biases in the dating process.
Biases can stem from physical appearance, height, or career, among other factors. However, eHarmony tackles this problem by employing an advanced matching algorithm that prioritizes compatibility over looks. The algorithm considers factors that contribute to a successful long-term relationship, rather than solely relying on physical attributes.
When seeking a meaningful and lasting relationship, it is crucial to have compatibility in areas such as interests, goals, and lifestyles. By using eHarmony, you can start your dating journey with the knowledge that you and your potential partner share important commonalities. If your objective is to find someone with whom you are genuinely compatible, eHarmony is an excellent choice.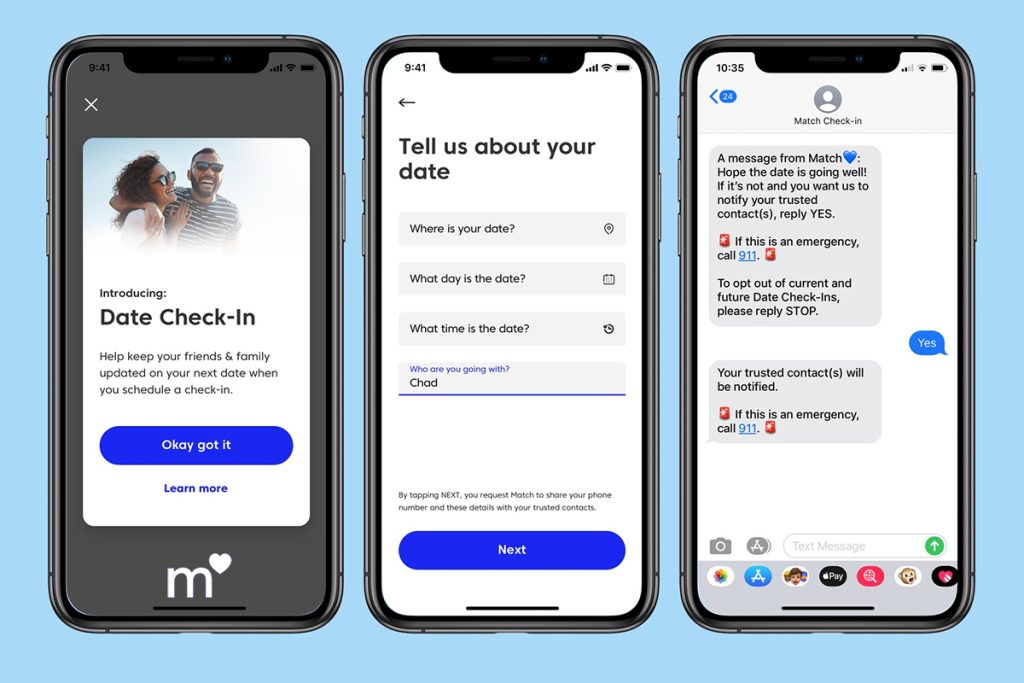 Match.com
Match.com is a well-established dating app that provides a wide range of comprehensive features, including messaging, profile browsing, and advanced search filters. The advanced search filters offered by Match.com enable you to input specific criteria you're seeking in a partner, and within seconds, you'll receive customized results tailored to your preferences.
This feature allows you to be proactive in selecting the important criteria that matter to you and quickly find someone who meets your desired qualities. Instead of discovering weeks or months into a relationship that someone may be incompatible, Match.com's advanced search filters help you identify potential matches who align with your preferences from the start.
If your objective is to find a partner who matches your specific criteria and preferences, Match.com is the ideal dating app for you to download. It empowers you to take control of your search and increases the likelihood of finding someone who meets your expectations.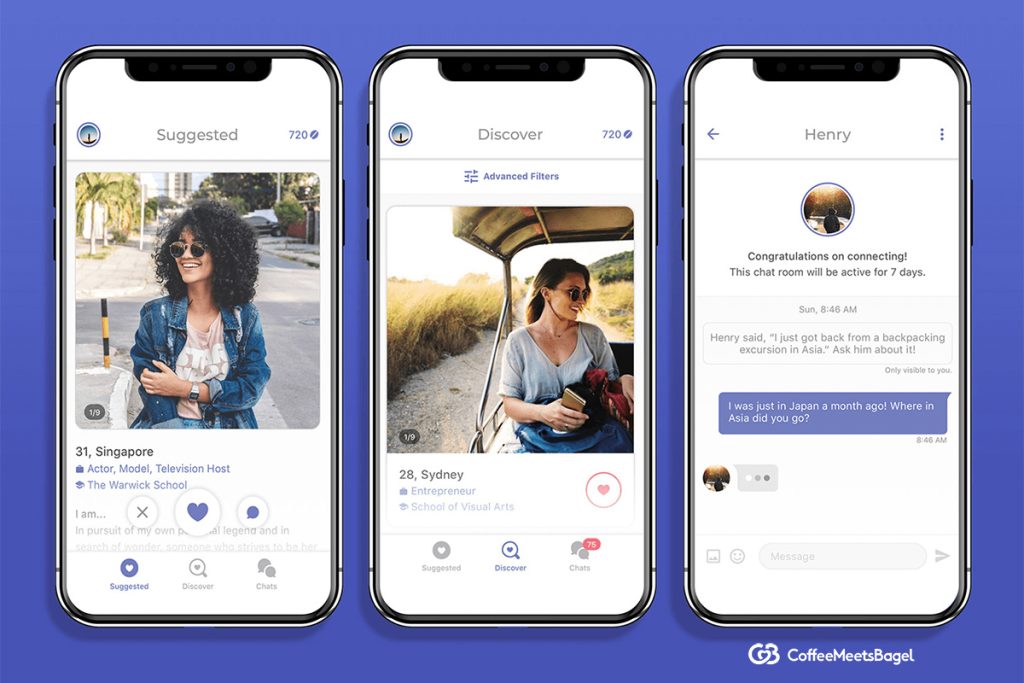 Coffee Meets Bagel
If you find yourself easily overwhelmed by the multitude of profiles, matches, and seemingly limitless options on dating apps, Coffee Meets Bagel provides a perfect solution. This unique dating app sends you one carefully curated match per day at noon, specifically selected based on your preferences and activity.
The approach taken by Coffee Meets Bagel offers the opportunity to develop more meaningful and authentic connections with your matches. By limiting the number of matches you receive and removing the pressure of messaging multiple people simultaneously, you can focus your time and attention on each match more effectively. This streamlined approach allows for a more intentional and mindful dating experience.
If you prefer to avoid being inundated with numerous choices and would rather invest your energy in building connections with carefully selected matches, Coffee Meets Bagel is the ideal dating app for you. It enables you to enjoy a more personalized and manageable dating experience without feeling overwhelmed.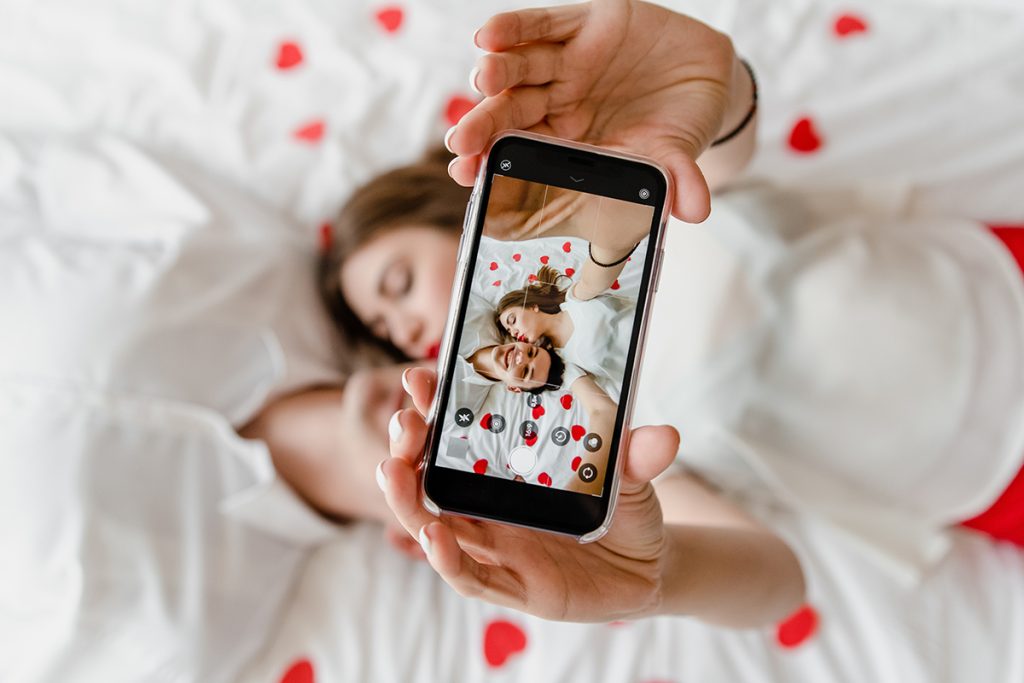 Top dating apps for 2023: The best app for you conclusion
As the popularity of online dating continues to soar, the number of niche dating apps available online is constantly on the rise. This abundance of options can make it a challenging and time-consuming task to choose the best dating app for your needs.
It's important to acknowledge that every individual has different objectives when it comes to dating. Some seek casual dating experiences, while others aspire to establish long-term relationships that may eventually lead to marriage. There are also those who fall somewhere in between these two ends of the spectrum.
The key lies in recognizing that everyone's intentions vary, and these intentions play a significant role in determining which dating app is most suitable for you. Consider your own dating goals and select the app that aligns best with your desired outcomes.
It's worth mentioning that regardless of which dating app you choose, you always have the option to delete it and try out another if it doesn't meet your expectations. Embrace the flexibility and remember that you can explore different platforms until you find the one that resonates with you and supports your dating objectives.