Heivy: the beauty benefits of liquid collagen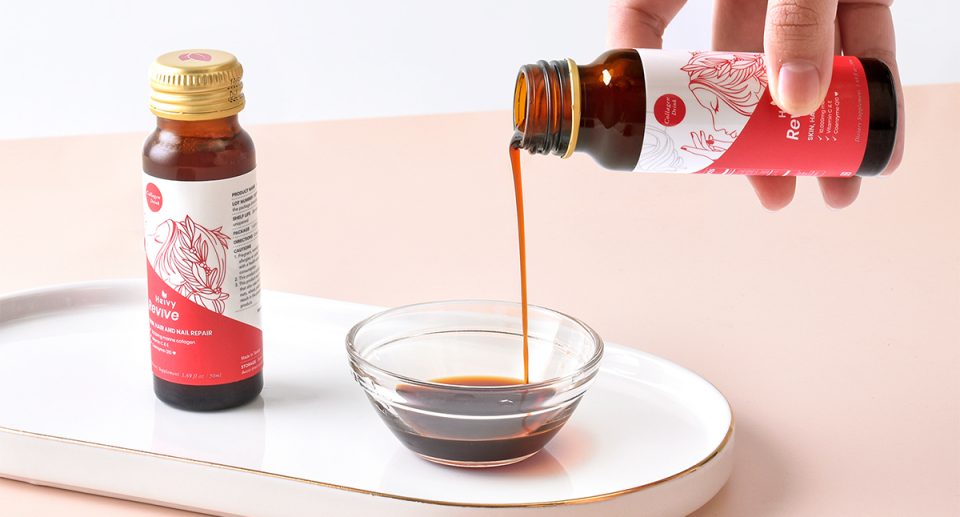 Isn't it every woman's desire to have healthy, clean, and well-nurtured skin? There are various treatments and protective measures, both internal and external, to accomplish this goal. One of these is the use of collagen.
Collagen is an essential protein that occurs naturally in the body and plays a vital role in maintaining the skin's health and elasticity. As well as the strength of bones, muscles, tendons, and ligaments. This is mainly because collagen is the most prevalent structural protein in mammals. Comprising 33% of the protein content in the human body and approximately 75% in human skin tissues.
Currently, collagen drinks have gained popularity within the beauty and wellness industry, as they are thought to provide deep skin protection from within.
What is liquid collagen?
Liquid collagen is a type of collagen supplement that can be orally consumed in a liquid form, commonly as a drink. The main objective of liquid collagen supplements is to enhance collagen levels in the body, promoting healthy skin, hair, and nails, as well as joint and bone health. By incorporating collagen you can enhance your immunity, improve your strength and overall health as well.
More info about the Heivy Collagen brand
Heivy Collagen is a beauty brand that is committed to creating high-quality collagen skincare products using all-natural ingredients, while also prioritizing environmental sustainability. Stacy, an entrepreneur and mother of three, founded Heivy Collagen in 2017 when she recognized the demand for a cost-effective and easy-to-consume collagen supplement.
In a quite short period, Heivy has become a leading provider of quality internal and external collagen beauty products in the U.S. market, which is truly remarkable! Heivy stands out by using naturally sourced ingredients and implementing eco-friendly practices to enhance the benefits of collagen. The brand is committed to maintaining the highest standards for ingredients and flavor.
Heivy offers five different collagen formulas that cater to all skin types. With which it provides numerous benefits and is restoring the natural radiance of your skin.
More info about the Heivy Collagen products
Heivy's liquid collagen formulas are crafted using only natural ingredients. This means without the use of parabens, preservatives, artificial colors, or flavors. They include plant-based extracts, essential vitamins, and minerals to provide a comprehensive skincare solution.
The brand has recently expanded its offerings by introducing six ready-to-consume collagen supplement drinks. They come in various variants and colored packages:
Revive (red), Stior (light blue), Protect (purple), Lullaby (dark blue), Uplift (yellow), and a new supplement called Hyaluronic Acid – Moisturizing Drink.
Below you'll find some more information about the Heivy Collagen Revive and Stior product lines.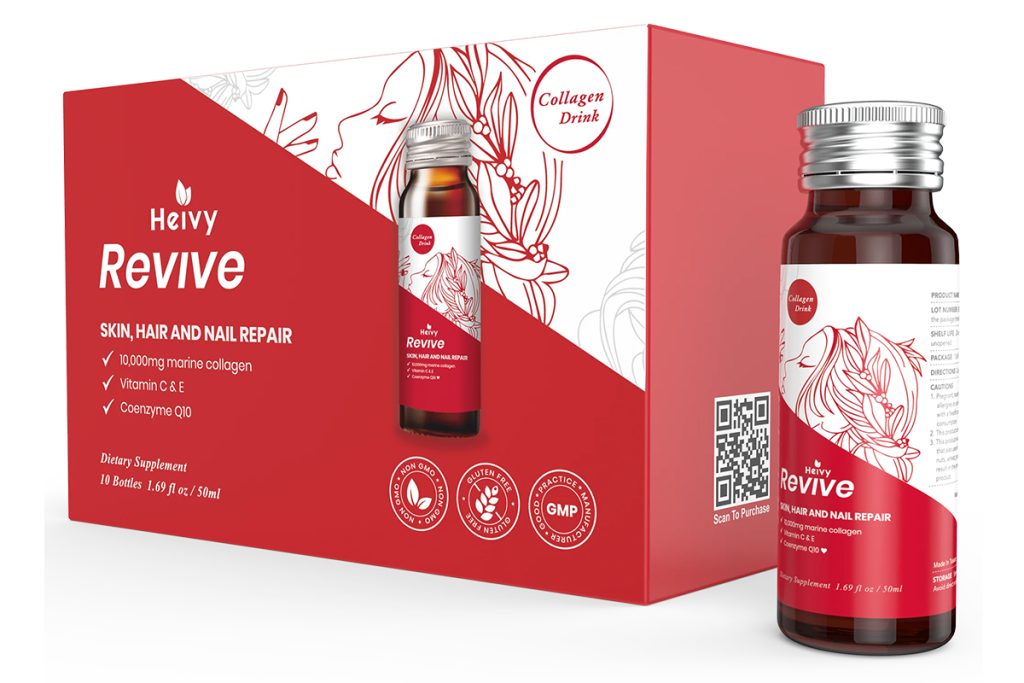 Heivy Collagen Revive review
Heivy Collagen Revive asserts its ability to revitalize and fortify your hair, skin, and nails. This includes enhancing the skin elasticity, halting the progression of deep wrinkles, and improving facial blood circulation. Making it the ultimate all-purpose collagen drink!
The red Heivy bottle contains 10,000mg of marine collagen and biotin, which are believed to revive mood and significantly strengthen hair and nails. Biotin is commonly referred to as an essential 'beauty vitamin', as it helps to protect the skin's molecular mucous membranes and maintain healthy skin.
In addition to marine collagen and biotin, this collagen drink also features coenzyme Q10, Vitamin C, and Piperine. Those are added to enhance the absorption and reduce damage from radicals in the body. The inclusion of jasmine extract maximizes the benefits of this collagen drink too.
Overall, Heivy Revive collagen works in unison to repair and deeply nourish skin imperfections. Consume one bottle daily for optimal results and experience a noticeable improvement in how you feel every day.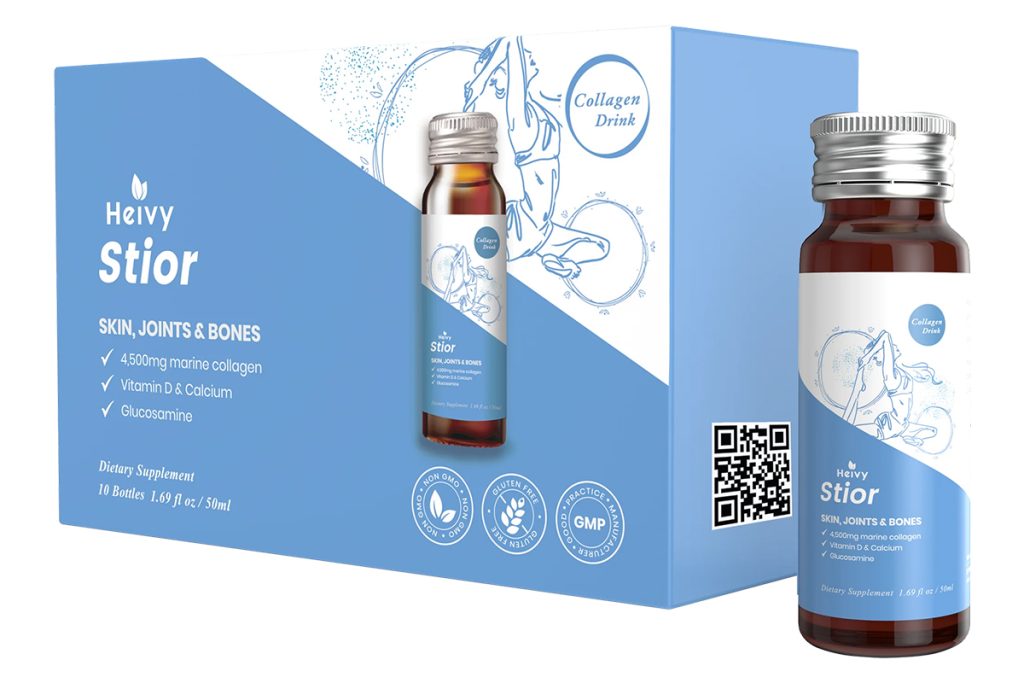 Heivy Collagen Stior review
Are you looking to enhance your bone strength and joint mobility? Then look no further than Heivy Collagen Stior. This collagen supplement effectively supports your bones, joints, and tendons. Ensuring they remain supple enough to keep you active.
The Stior formula contains calcium to maintain and strengthen bones, and vitamin D to improve the calcium absorption and bolster the immune function. Making it an excellent addition to your beauty transformation routine.
And you know what's even better? This liquid collagen supplement is a combination of premium type I and an extra 5,000mg of type II marine collagen, which provides a greater flexibility. Additionally, the inclusion of glucosamine helps generate fats and protein for joint pain recovery. Just drink one blue colored Stior bottle daily to expedite your recovery from your fitness regimen.
Frequently Asked Question
Why use marine collagen?
There are four primary animal sources from which collagen is derived, namely bovine (cow), porcine (pig), chicken, and marine (fish). Among these, marine collagen has the highest level of 'bioavailability'. Which refers to its ability to be rapidly absorbed by the body, making it highly effective in quickly restoring someone's collagen levels.
Why use liquid collagen?
Liquid collagen is considered better because all nutrients must be in liquid form before the body can utilize them. In the case of Heivy Collagen supplements, liquid collagen is already in the appropriate form.
This implies that the body can absorb the nutrients faster, and a greater quantity of beneficial components reaches the necessary areas. Therefore, the Heivy liquid collagen is one of the best collagen supplements available.
For whom is Heivy Collagen?
The beauty and wellness brand Heivy offers several products that are suitable for everyone. Including dancers, those with an active lifestyle, or workout enthusiasts. If you're seeking for the numerous benefits liquid collagen can bring, then their products are a great option for you!
Since the powerful combination of their unique formulas deeply nourishes your skin, strengthens your nails, and promotes hair growth. It even works wonders for your bones and joints, while revitalizing your precious skin.
And not only that, but if you do have any skin imperfections that you'd like to repair, then the Heivy Collagen products can assist you in achieving your desired results gradually. Because their liquid collagen supplements offer all of these benefits and more!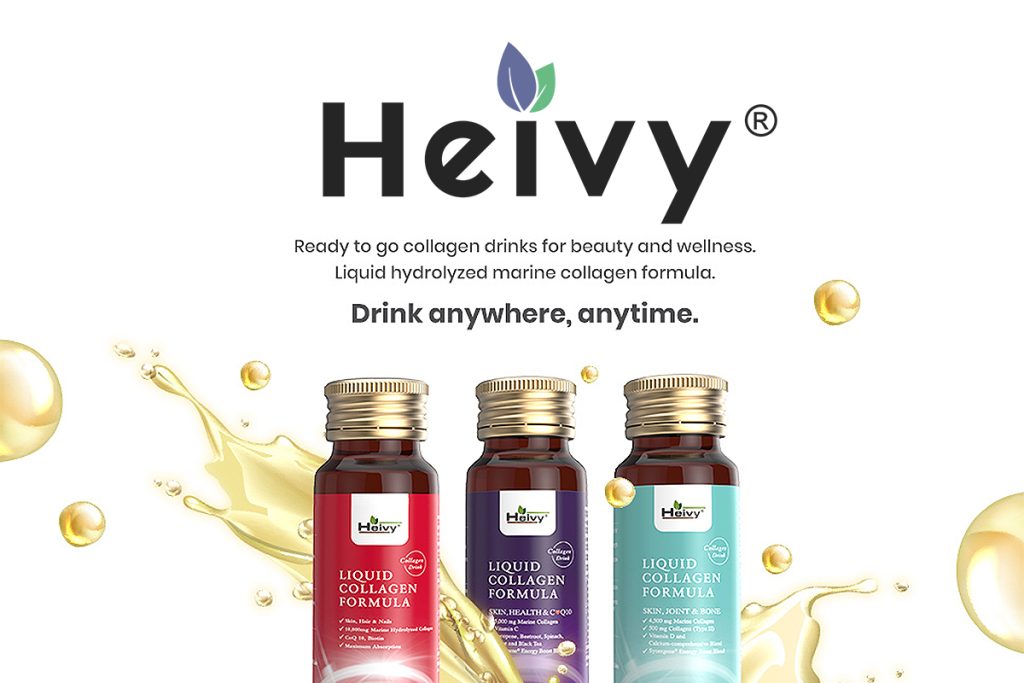 Is it worthwhile to buy Heivy Collagen?
Heivy Collagen offers numerous health benefits for your body, and according to several positive customer reviews online, it is a worthwhile investment. Various users have reported feeling better overall and experiencing a significant improvement in their health after using Heivy Collagen.
When it comes to every aspect of their wellness products. Including the ingredients, product quality, quality control, and manufacturing process. A lot of people firmly believe that Heivy Collagen is an effective and valuable investment for your body's health.
According to all of these users, the Heivy brand provides the best liquid collagen supplement for on-the-go consumption. You can start to use it too, and see the excellent results for yourself!